About Us
Get to Know the Eco Serve Team
Eco Serve Pest Services strives to create an extraordinary customer experience through our knowledgeable, caring, and responsive pest professionals throughout Western New York. When you work with us, you're working with people with decades of practical experience and a commitment to bettering our local community. 
Image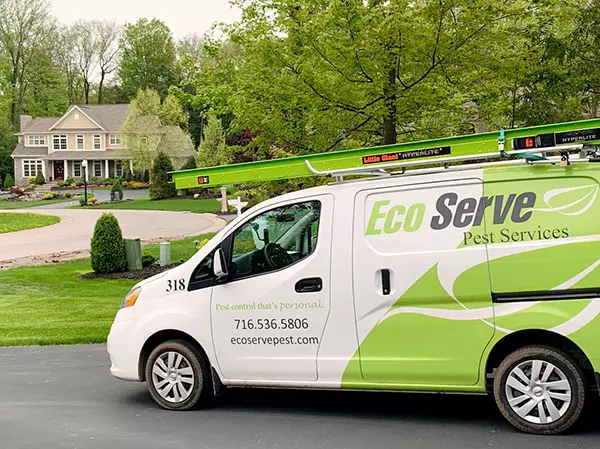 About Eco Serve Pest Services
At Eco Serve, we are committed to making your experience unique and extraordinary.  Our team of pest control professionals understands that your situation is special and important. We promise to be responsive and empathetic to your individual needs while solving pest problems.
As a local and family-owned pest control company, Eco Serve Pest Services is very much dedicated to the success of not only ourselves but to other local business operations throughout Western New York. Our memberships to several different area associations provide us with a unique opportunity to not only offer pest control services but to advance our business community.
Our president, Audrey Hall, currently serves as the Secretary on the Board of Directors for the University at Buffalo's Center for Entrepreneurial Leadership (CEL) Alumni Association. The UB CEL provides programs for businesses throughout the Western New York region that range from start-ups to multi-million dollar companies who seek to find solutions to each of their individual business needs.  As a graduate of the 2015 CEL Minority and Women Emerging Entrepreneurs Program, Audrey has greatly benefited from this organization.
We are excited to continually immerse ourselves in this wonderful community and be a small part of the great change the city of good neighbors creates. Our Eco Serve Cares initiative brings our team together through:
Bi-annual food drive for the Food Bank of WNY
Holiday family shopping for Baker Victory Services 
Team day of giving
Bee Thankful Facebook Contest in November to benefit a local non-profit organization 
Breast Cancer Awareness and Fundraising Efforts in the month of October
Community Involvement: Harvest House
Scott and Audrey Hall, owners of Eco Serve Pest Services, had the absolute pleasure of receiving a personal tour of the Harvest House from founder Linda Tatu and CEO Carol Miller. Harvest House is a local organization in Buffalo that serves our underprivileged neighbors. They have over 1400 volunteers who help in one of four areas. They have the New Hope Education Center which brings in students every year to provide them with skills training. They have their Good Neighbors Healthcare which provides free primary, vision, and dental care to over 2,400 patients every single year! They also have a retreat center and a baby and children's ministry where parents can bring in their children to pick out clothing, outerwear, and even toys all donated from the Buffalo community. They are desperately in need of boys clothing, sizes 5-14. If you have any gently used items, please drop them off at their Jefferson location. They will be so happy and your hearts will be too.
The other reason for our visit to the Harvest House was to present a check for $500.00 to Linda and Carol. During the last holiday season, Eco Serve ran a "Bee Thankful" campaign on our facebook page. Friends would comment who they are thankful for and why. For every comment, Eco Serve donated $1.00 to Harvest House. Our mission was to spread holiday cheer and raise some money for a terrific organization.  We are very thankful to everyone who helped us reach our goal!
 
We were so blown away by the sincere hospitality and warmth that everyone at the Harvest House welcomed us with. We are looking forward to working with Linda and Carol again soon and if you feel inspired, any donation would be greatly appreciated by them. Find Harvest House here!
We proudly support and work to hire veterans, and we are happy to be included in the PestVets organization. PestVets has goals to create veteran awareness, provide guidance to make their transitions into a new industry easy, recognize their contributions, and giving back to show appreciation to our Military. Eco Serve is proud to be apart of PestVets to show their support and welcoming nature to any veteran!
Image