Image

Protecting Your Business From Pests
Commercial Pest Control in Western New York
When insects or rodents invade your place of business, there's no time to waste. Set your worries aside once and for all by calling your local exterminators at Eco Serve Pest Services. We're happy to provide pest control in Western New York, so you can get rid of pests and can get back to serving your customers.
You have enough to think about as a business owner without having to add insect or rodent problems to the list! If you're looking for quality pest prevention and solution, look no further than Eco Serve Pest Services. 
Delivering The Best Commercial Services in Western New York
Our team is proud to provide quality commercial pest control in Western New York to combat this problem. Our exterminators can provide pest treatments and prevention for all of the following types of businesses:
Restaurants
Hospitals
Office Buildings
Schools & Universities
Warehouses
And More!
Guaranteed Pest Treatments You Can Trust
When you're looking for commercial pest control in Western New York, it's vital that you find reliable solutions. After all, it's bad enough to deal with insects without having to also waste time and money on ineffective pest control treatments. When you work with Eco Serve Pest Services, you'll have the benefit of working with a trusted team of exterminators with 20 years of experience serving our community. We'll start you out with a no-cost estimate to identify your business' needs, and from there we will design a customized pest treatment plan that is minimally invasive, technology-based, and guaranteed to work. In fact, if you see any pests between scheduled appointments or within your 30-day warranty period for a one-time treatment, all you have to do is call us to receive a free follow-up service.
Science-Based Solutions from Commercial Exterminators
An important part of being a responsible business owner is seeking green and sustainable solutions to the challenges you face. Here at Eco Serve, we're committed to providing technology-based pest control in Western New York. Utilizing the latest products and Integrated Pest Management (IPM) solutions, our commercial pest control provides both preventive pest control treatments and active ongoing treatments to keep insects and rodents gone and keep you and your customers safe and happy. Additionally, Eco Serve is a proud member of all of the following organizations:
National Pest Management Association
New York Pest Management Association
Orchard Park Chamber of Commerce
Image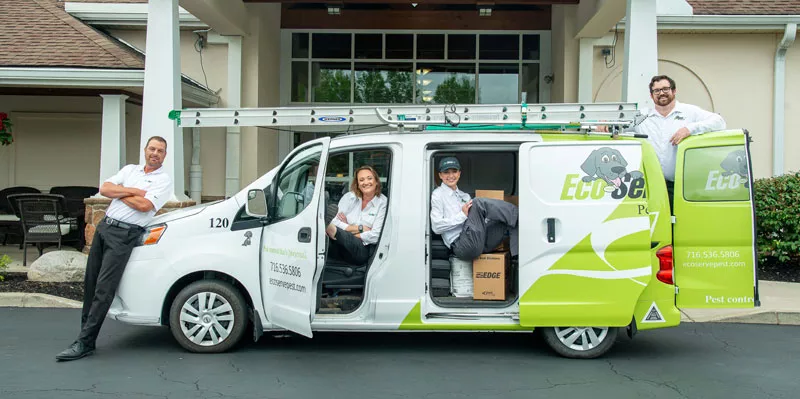 Work With A Team That Cares
Our team of commercial exterminators at Eco Serve Pest Services is founded on a commitment to personalized customer service, advanced pest treatments, and giving back. We have participated in and organized a number of community service projects and fundraising drives over our twenty years of serving Western New York, including the Bee Thankful Facebook Contest in November to benefit a local non-profit organization, Breast Cancer Awareness and Fundraising Efforts in the month of October, a team giving day, and more. We also offer 5% off to veterans and first responders because we believe it's important to recognize those who dedicate their lives to giving back. When you work with us, you'll be working with the people who care.
Areas We Service in New York
Here at Eco Serve Pest Services, we are built around a commitment to customer service, transparency, and giving back. In addition to serving our community by providing pest management, we also give back through events such as food drives, our team day of giving, and other philanthropic events. When you let us help you, you help us give back to our larger community.
Image