Quality Pest Services in Tonawanda
What kind of problem are you having? Select all that apply.
Pest Control in Tonawanda
There's a lot to love about living in New York, but dealing with an infestation, big or small, only causes stress. Whether you're looking to get rid of rodents, ticks, or much more, our pest control company provides efficient removal no matter the pest. Backed by 20 years of experience, Eco Serve exterminators are trained in the latest technology-driven treatments guaranteed to make your home pest-free! We provide protection in Tonawanda from the following:
Ants
Powder Post Beetles
Moths
Stinging Insects
Cockroaches
And more!
Image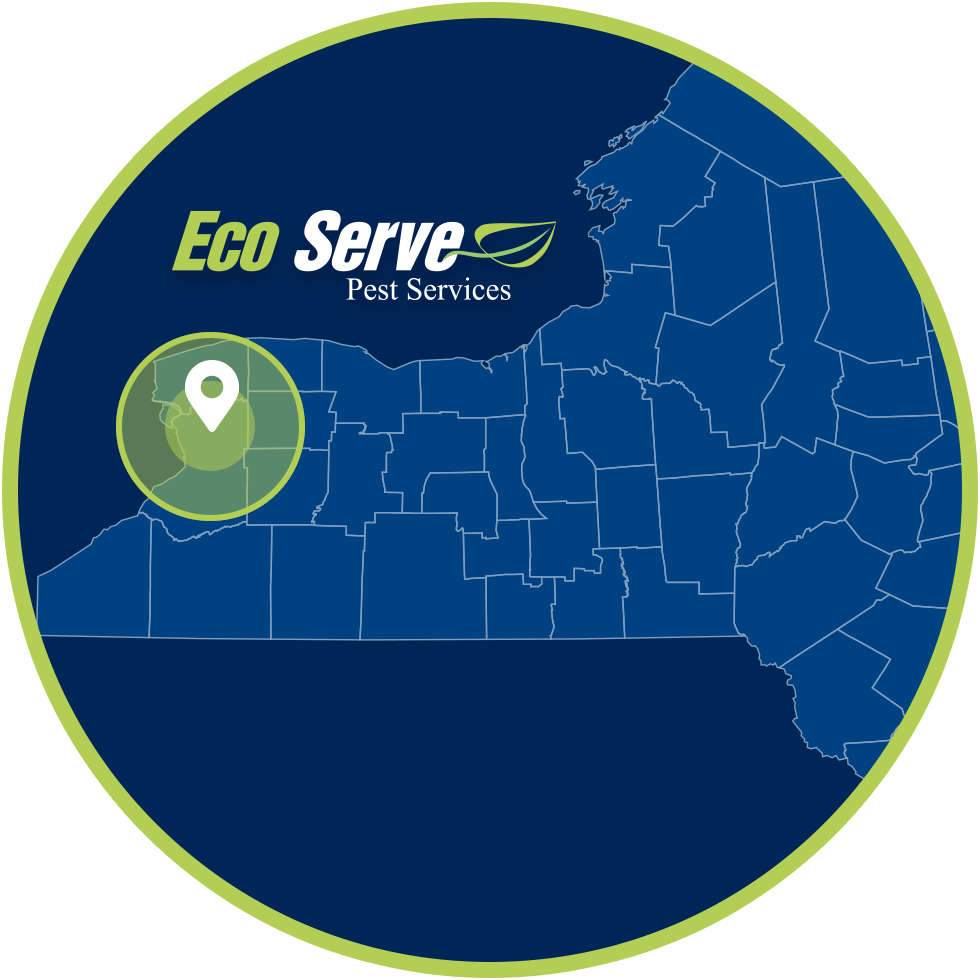 Fast Relief Within To Rid Pests - Guaranteed
Not only are our pest control services in Tonawanda family-and-pet-friendly, up-to-date, and affordable but also we guarantee quick relief! At Eco Serve, we stand out above the rest with services that bring you peace of mind in no time. We understand that pests can cause severe and often irreversible damage to your home. That's why we're committed to providing you with treatment and support as soon as possible and that connects with your schedule. With Saturday servicing and dedication to serving you at a timely manner, you won't wait long or be inconvenienced with pest control from Eco Serve! 
Ant Control in Tonawanda
Ants aren't the most dangerous or destructive household pest you'll encounter, but they certainly might be the most annoying. You can try to spray or squash them all you want, but the chances that they'll just come right back are high. But with quality ant control in Tonawanda from your friends at Eco Serve Pest Services, you can finally get rid of them for good! These stubborn and determined little household pests are no match for our expertly-trained and skilled team of exterminators. In fact, different species of ants require different techniques to relinquish, so having a team to know exactly what to look for can be very beneficial. 
So if you're sick of ants coming in and out of your home as they please, give us a call and we'll keep your house free from:
Pharaoh Ants
House Ants
Pavement Ants
Odorous House Ants
And many more!
Time counts for a lot when treating pests. Fortunately, we guarantee speedy services of your initial call to help you resolve even a severe infestation as quickly as possible. Our ant control in Tonawanda will stand by with eco-friendly products and ant removal plans that you can count on, so don't hesitate to get in touch! 
Stinging Insect Control in Tonawanda
Sharing your backyard with bees, hornets, or yellow jackets can make it scary to go outside. If you're worried about being stung, trust our expert exterminators. We have the equipment and knowledge needed to safely remove unwanted pests and keep your family safe. You'll be having fun in the sun in no time!
When you partner with us for stinging insect control in Tonawanda, we will:
Inspect your property for insect nests, checking common places like sheds and playgrounds.

Create a custom treatment plan based on our findings and what species of insect is present.

Use family-friendly treatments to quickly eliminate insects and keep your yard protected.
Whether it is bees, wasps, hornets, or any stinging insect bothering you, let our expert technicians exterminate them for good! Dealing with stinging insects in Amherst or other areas in Western New York? Be sure to check out our service area to see if we can help get rid of any infestations. 
Rodent Control in Tonawanda
While we've never encountered an infestation that we'd consider to be good, some will always be worse than others. Rodents, unfortunately, are about as bad as it gets when it comes to common household pests. In addition to being relentlessly curious and always on the lookout for food, rats and mice can cause serious damage to your home and even expose your loved ones to dangerous diseases. With the help of a professional rodent exterminator, we can help prevent mice and rats so you don't have to worry about this issue any longer. 
 With more than 20 years of hands-on experience, our expert rodent control in Tonawanda can include: 
A full rodent inspection throughout your home

to determine your specific needs.

Fast and effective trapping and removal service

to resolve infestations quickly. 

Available Saturday service

to work around your busy schedule.

Protection from dangerous illnesses

like Hantavirus, Bubonic Plague, Salmonella, and Typhus.

Helpful rodent prevention advice

from experienced rat and mouse exterminators.

FREE re-treatments

if rodents come back after our service has concluded. 

And much more! 
Bed Bug Control in Tonawanda
Are you tired of losing sleep over bed bugs? Look only as far as our bed bug control service in Tonawanda. Our expert bed bug exterminators use family-friendly treatments to get rid of bed bugs quickly and effectively. Here's what you can expect:
Thorough bed bug inspection to assess the severity of the infestation
Professional treatments using high-quality products and techniques
Family-friendly formulas that are safe for your pets and loved ones
Fast, easy relief so you can get back to a restful night's sleep
Don't let bed bugs rob you of your sleep any longer. Trust our experienced bed bug exterminators in Tonawanda to provide guaranteed protection from bed bugs. Call us today for peace of mind knowing your home is bed bug-free.