Best Pest Control Services in East Amherst
What kind of problem are you having? Select all that apply.
Pest Control in East Amherst
Welcome to Eco Serve Pest Services, your trusted local pest control experts in East Amherst, New York! With over 20 years of experience, we are committed to providing you with exceptional pest control services tailored to your individual needs. Here are the key services we offer in East Amherst:
Residential Pest Control
Commercial Pest Control
Rodent Control
Termite Control
Bed Bug Control
And more!
With our deep understanding of East Amherst's unique climate and expertise in pest control, we are the go-to choice for all your pest control needs. Don't let pests take over your property, contact us today for a hassle-free inspection and tailored pest control solutions.
Image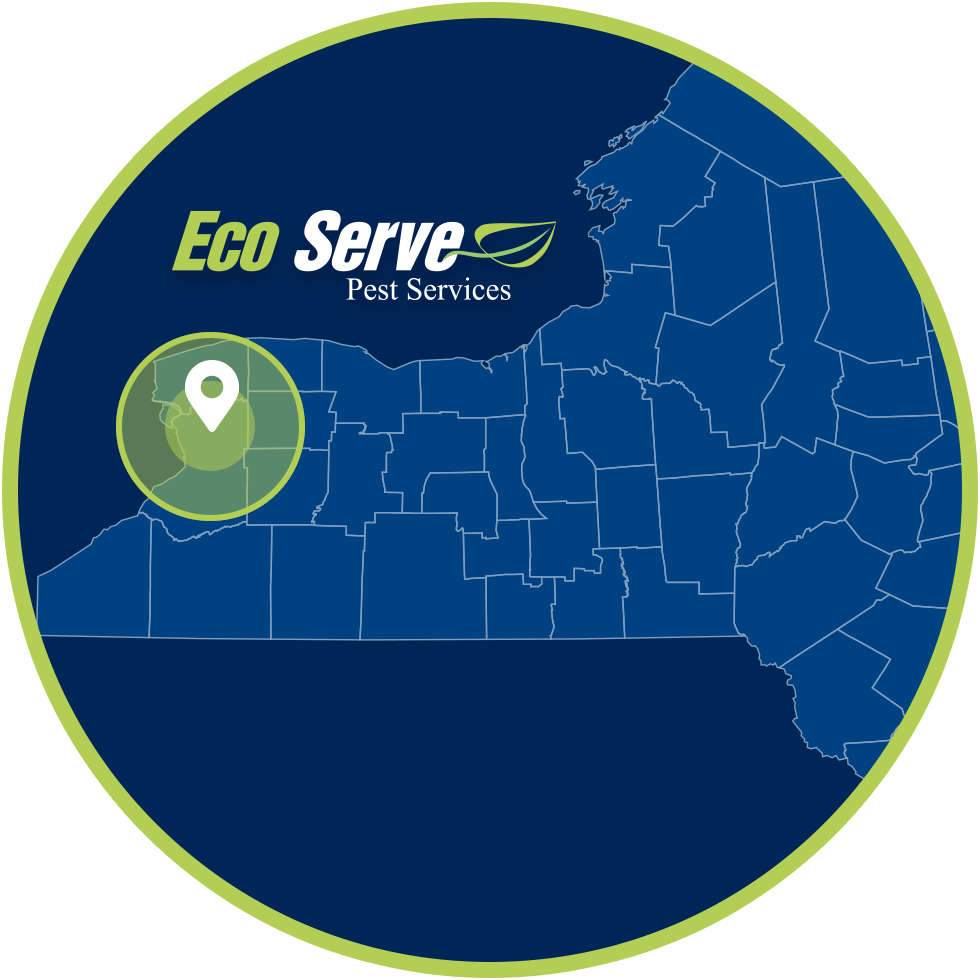 Local Exterminators Here To Help
Concerned about pests in your East Amherst home? Look no further! Our team of expert exterminators is here to provide you with high-quality residential pest control in East Amherst. With our effective and reliable treatments, you can say goodbye to ants, roaches, spiders, silverfish, fleas, moths, and much more! Here's why you should choose us:
Comprehensive pest control: We cover a wide range of common household pests, ensuring that your home is well-protected from all types of intruders.
Experienced exterminators: Our team consists of skilled exterminators who are trained to handle any pest problem you may have. Trust us to get rid of those unwanted guests!
Personalized pest inspection: We understand that every home is unique, which is why we offer personalized pest inspections. This allows us to identify the specific pests in your home and tailor our treatments accordingly.
Family and pet-friendly treatments: We prioritize the safety of your family and pets. Our treatments are minimally invasive and use eco-friendly products, ensuring that your loved ones are protected.
Recurring services: We offer recurring pest control services to ensure that your home remains pest-free all year round. Say goodbye to worrying about pests!
With our commitment to providing top-notch service and our dedication to using the latest pest control technology, you can have peace of mind knowing that your home is in good hands. Don't let pests take over your East Amherst home. Contact us today and experience the difference of our residential pest control services. Say hello to a bug-free home!
Ant Control in East Amherst
Are you tired of dealing with pesky pests in your East Amherst home? Look no further! At Eco Serve, we offer top-notch residential pest control in East Amherst to give you the bug-free home you deserve. Check out what we can do for you:
Pest Inspection: Our team will conduct a thorough pest inspection to identify any existing or potential issues in your home. This will help us create a targeted plan to eliminate pests and keep them from recurring.
Family and Pet-Friendly: We prioritize the safety of your family and pets. That's why we use minimally-invasive products that are both effective and safe for your loved ones.
Recurring Service Calls: With our unlimited service calls, you can rest assured that we will be there whenever you need us. We are committed to providing excellent customer service and ensuring your satisfaction.
Don't let pests take over your East Amherst home. Choose Eco Serve for reliable and affordable residential pest control. Contact us today to schedule a consultation and take the first step towards a bug-free home.
Bed Bug Control in East Amherst
ay goodbye to sleepless nights with our bed bug control service in East Amherst. Our expert bed bug exterminators are here to help you get rid of bed bugs for good. Check out the benefits of our service:
Thorough bed bug inspection to assess the severity of your infestation
Highly effective and family-friendly bed bug treatments
Guaranteed 30-day warranty for peace of mind
Integrated Pest Management techniques for effective and gentle treatment
Fast and easy relief from bed bugs
Don't let bed bugs ruin your sleep any longer. Trust our experienced team to provide you with the best bed bug extermination service in East Amherst. Say hello to a restful night's sleep once again. Call us now and experience the difference!
Rodent Control in East Amherst
Are rodents wreaking havoc in your East Amherst home? Don't let them take over your space and compromise your health. Turn to the expert rodent exterminators in East Amherst for a comprehensive solution. At Eco Serve Pest Control, we offer a range of services designed to address your rodent problems and keep them at bay for good. Here's what you can expect:
Free Rodent Inspection: Our skilled technicians will conduct a thorough inspection of your property, identifying problem areas and assessing the extent of the infestation.
Exterior Rodent Baiting: We strategically place bait stations around the exterior of your home, targeting areas where rodents are likely to frequent. This proactive approach helps prevent rodents from entering your property in the first place.
Interior Trapping: In addition to exterior baiting, we also set up traps inside your home to capture any rodents that have already made their way indoors. Our team will regularly monitor and reset the traps as needed.
Rodent Exclusion: We go beyond just trapping rodents. Our rodent control service in East Amherst includes sealing gaps, cracks, and other entry points to prevent future infestations. By excluding rodents from your property, we ensure long-term protection.
Recurring or One-Time Service: Whether you prefer ongoing rodent control or a one-time service, we've got you covered. Our customized solutions are tailored to meet your specific needs.
Remember, when it comes to rodent removal, prevention is crucial. Trust the experts who have been serving homes and businesses around Western New York for years. Contact us today, and let us help you maintain a rodent-free environment.
Stinging Insect in East Amherst
Choose Eco Serve Pest Services for reliable and effective stinging insect control in East Amherst. Protect your home and enjoy the outdoors without the worry of stinging insects. Our services include the following:
Free Inspection: We offer a complimentary inspection to accurately identify the specific stinging insect species bothering you.
Effective Treatment: Our skilled exterminators utilize specialized liquid sprays and traps to effectively eliminate and prevent wasps and hornets from your property.
Seasonal Need: The climate and geography in East Amherst, NY, create a need for seasonal wasp control. We understand the unique challenges of the area and provide tailored solutions.
Fast and Flexible Scheduling: We value your time and respond promptly to minimize your exposure to stinging insects. With our Saturday service, we accommodate even the busiest schedules.
Unlock a Stinging Insect-Free Home: Take advantage of our extensive knowledge, safe treatments, and exceptional customer service to create a safe and comfortable environment in your East Amherst home.
Not in East Amherst? See Where Else We Service
Looking for pest control in your area? Our experts service many different cities surrounding Western New York.