Guaranteed Pest Control in East Aurora
What kind of problem are you having? Select all that apply.
Pest Control in East Aurora
Life in New York has so many benefits—but dealing with pest infestations isn't one of them! If your home has fallen victim to rats, fleas, wasps, or any other unwanted invader, our exterminators at Eco Serve Pest Services have the solutions you've been looking for. As a trusted local pest control company for over 20 years, our experts are equipped to eliminate any creepy crawly that might end up in your home. Our pest control in East Aurora includes a variety of comprehensive treatments, including:
Rat Control
Mice Control
Moth Control
Stinging Insect Control
Ant Control
Bed Bug Treatment
Cockroach Control
Powder Post Beetle Control
And more!
Image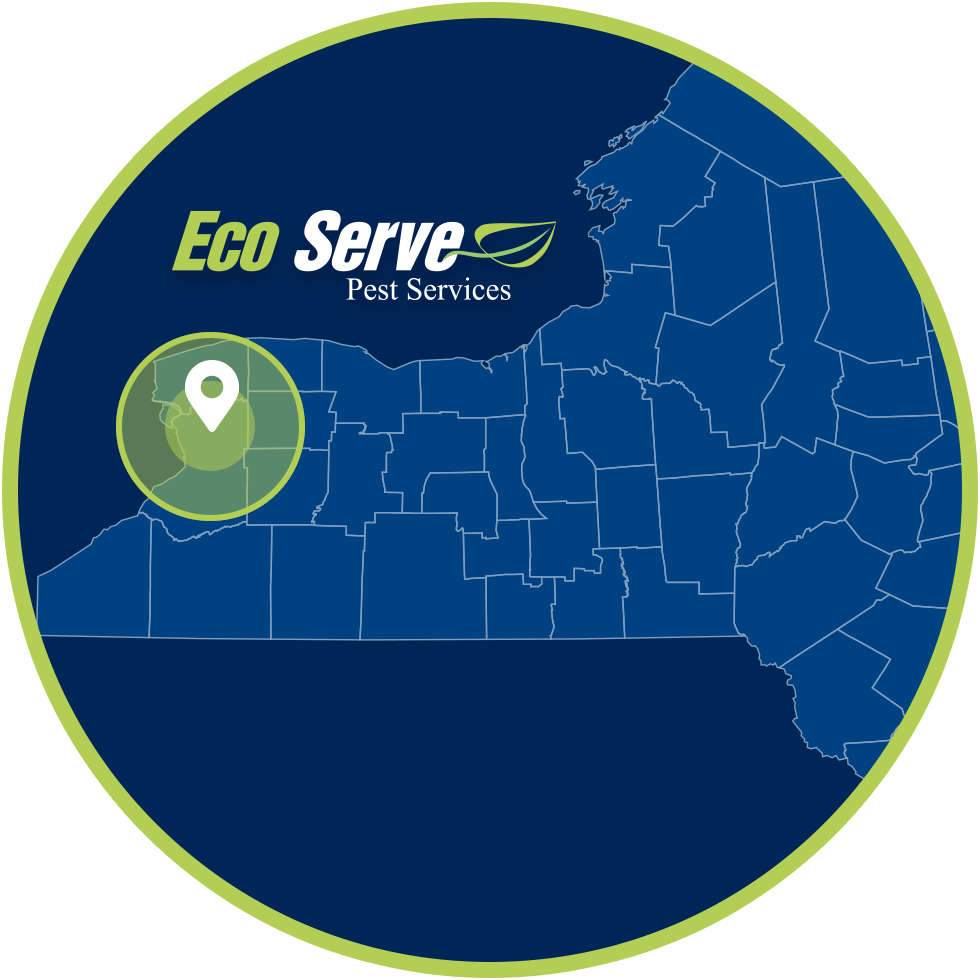 Fast Services For Relief When You Need It
If you're sharing your home with pests, you don't have time to get stuck playing phone tag with a pest control company. Here at Eco Serve, our goal is to provide fast, reliable service to our customers. In fact, we're dedicated to offering treatments at a timely manner and Saturday appointments to work around your schedule and be there when you need us—Our top priority is getting you the pest control services you need, as soon as you need it. When you team up with us, you can expect the following:
Customer service built on respect, transparency, and personalized care.
Three treatments to eliminate your infestation from the ground up.
Discounts for veterans and first responders.
And more!
Guaranteed Protection From Local Pests
Why waste your time and effort on ineffective DIY treatments when professional pest control is only a call away? Our exterminators at Eco Serve utilize the best in technology-driven treatments and minimally-invasive products and techniques with all of our services to provide you with treatments that are as safe as they are effective. In fact, we're so sure we can solve your pest problems that we guarantee it: when you choose us for pest control in East Aurora, you'll have our promise that if pests return, we'll be back to set it right at no additional cost to you!
Bed Bug Treatment in East Aurora
After a long day, the last thing you want to do is fall asleep on a mattress infested with bed bugs or wake up with itchy red welts on your skin. Dealing with an infestation can be a nightmare thanks to these pests' rapid reproduction and ability to withstand all varieties of home remedies. Luckily, with Eco Serve Pest Services right around the corner, technology-driven solutions to your pest problems are just a phone call away. Contact us today for the best sustainable bed bug treatment in East Aurora, and we guarantee that you'll be relaxing on bed bug-free furniture in no time! Having trouble with bed bugs in Amherst or other areas in Western New York? We can help there too!
Get Rid of Bed Bugs with Eco-Friendly Solutions 
As you have probably already figured out, bed bugs are tough. Unless they are completely eliminated, eggs and all, their population will continue to grow and spread throughout your home. That's why it's important to have science-based solutions that have been proven to get rid of bed bugs completely. At Eco Serve Pest Services, our professional exterminators use the latest technology and Integrated Pest Management (IPM) to eliminate bed bugs as safely and effectively as possible. Our cutting-edge treatment in East Aurora includes the following services:
A thorough bed bug inspection to assess the severity of your infestation and guide our treatment plan.
Highly effective treatments utilizing mattress encasements and other reliable products.
Sustainable products and methods, designed with the safety of your family and pets in mind.
A 30-day warranty meaning we will re-treat your home at no additional cost if bed bugs return within 30 days of our last visit.
Rodent Control in East Aurora
Mice, rats, and other rodents are extremely common pests in New York, and if not handled correctly, can quickly become a disruption in your life. Rodents are known carriers of many dangerous diseases, including hantavirus and tularemia, and should be avoided with caution. Along with diseases, they can also chew through the cabling in your home and be the reason for a lot of property damage. Rather than worrying about where they may be hiding in your home, call in our helpful team at Eco Serve Pest Control for expert rodent control in East Aurora. From identifying the species to eliminating any infestation to even post-removal treatments and inspections, let us be your one-stop shop for anything involving rodent control. As part of our comprehensive packages you can expect: 
A home inspection to identify and locate the pest, as well as any likely entry points. 
Effective rodent removal using only eco-friendly products to keep everyone safe. 
Preventative treatments in the home to help seal all of the identified entry points. 
Expert advice on simple steps you can take to limit the chance of any future infestation.
Free re-treatments for any and all issues within your guarantee period!
Ant Control in East Aurora
Ant colonies are huge, making it easy for them to take over your kitchen, swarm under your floorboards, or wreak havoc elsewhere in your home. Instead of relying on ineffective store-bought traps and messy sprays, trust our ant control in East Aurora! Not only will we get rid of your current problem, but we'll also prevent ants from coming back. That's the type of hassle-free service you can always depend on Eco Serve for!
When you partner with us for ant control, we will:
Complete a thorough inspection to determine where ants are sneaking inside.
Create a custom treatment plan based on your property's specific needs.
Strategically place bait traps in areas with high levels of pest activity.
Treat for carpenter ants, odorous house ants, pavement ants, and more.
Stinging Insect Control in East Aurora
It's hard to relax when you're worried about being stung by wasps or yellow jackets. For protection you can trust, choose our stinging insect control in East Aurora. We have the tools, safety equipment, and experience needed to get the job done without putting anyone at risk for harm. After our inspection, we'll start treatment right away to give you the fast results you deserve.
Our stinging insect control includes:
Specialized treatments based on the type of insect and location of the nest.
Treatment options that are safe for your whole family.
Lasting protection so you can enjoy your fun in the sun.
Free re-treatments if insects come back within 30 days of our visit.