Quality Pest Control in Orchard Park
What kind of problem are you having? Select all that apply.
Pest Control in Orchard Park
No homeowner should ever have to waste their time and money worrying about insect or rodent problems. While most pests have their own unique roles in the environment, none of them have a place in your home. At Eco Serve Pest Services, we're here to give you fast, affordable pest control in Orchard Park—no mess, hassle, or long waits and playing phone tag. Our commitment to customer service and science-based pest control is just part of what has set our service apart for the last 20 years. Our team of exterminators in Orchard Park can handle any of the following: 
Rat Control
Mouse Control
Moth Control
Stinging Insect Control
Ant Control
Bed Bug Treatment
Cockroach Control
Powder Post Beetle Control
And more!
Image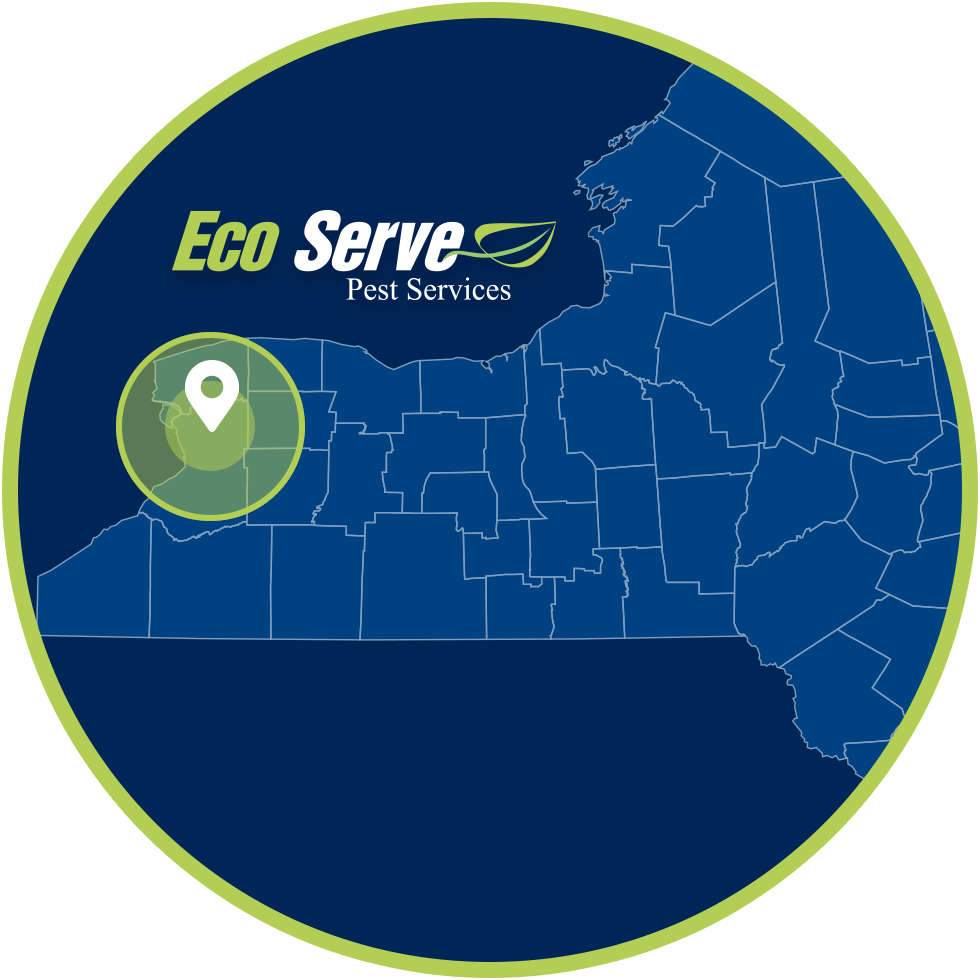 Guaranteed Pest Control to Get the Job Done Right
At Eco Serve Pest Services, we believe quality pest control in Orchard Park should go above and beyond your expectations. In addition to practicing Integrated Pest Management (IPM) techniques to reduce pesticide use and keep you and your loved ones safe during bug treatments, we are also proud to offer a satisfaction guarantee with our services. If they return between treatments or during your warranty period, we're more than happy to provide a free follow-up treatment. When you partner with us, you can expect the following from your exterminator in Orchard Park:
A thorough pest inspection to identify your home's unique needs.
Quality customer service backed by extensive training and practical experience.
Personalized treatment plans with the latest products and technologies.
The chance to save $25 on your first pest control treatment!
Bed Bug Treatment in Orchard Park
Tired of tossing and turning over bed bugs? Eco Serve Pest Services has you covered. Our team of bed bug exterminators in Orchard Park is here to help you eliminate your infestation once and for all and get you back to your good night's rest. Our success relies on using science-based products and approaches designed to remove your bed bug infestation quickly and safely and keep them gone—for good. Even better, we offer same-day and next-day service, meaning you'll never be left waiting around and can get back to enjoying your home in peace. With 20 years of experience under our belt, we're confident we can make your bed bug problems a thing of the past.
 When you choose us for bed bug treatment in Orchard Park, you can expect the following:
A bed bug inspection to identify your bed bug colony size.
Thorough bed bug treatments using the latest and most effective technologies.
Our 30-day warranty—if bed bugs return within a month of treatment, we'll give you a free follow up service.
Commercial Pest Control in Orchard Park
When insects or rodents strike your place of business, it can be hard to focus on the important things you need to get done. Lucky for you, Eco Serve is here to provide fast and effective commercial pest control in Orchard Park. Our services are based on top-notch customer service, straightforward commercial pest control treatments, clear communication, and visible results. We're also excited to be able to provide fast service for your relief—we'll take care of the pests, so you can take care of your customers. Our commercial pest control in Orchard Park is designed to meet the needs of any business, including the following:
Food processing
Restaurants
Hospitals
Nursing homes
Apartment & condominiums
Office buildings
Schools & universities
Warehouses
And more!
Rodent Control in Orchard Park
Finding mice or rats in your home can be quite a shock, especially if you weren't expecting them! Rather than having to worry about when the next one will scurry out of the walls, turn to Eco Serve Pest Services for all of your rodent removal needs. Rather than gambling with store-bought solutions that could contain all sorts of chemicals, choose our professional teams who have over 20 years of experience with safe and effective rodent removal with minimal further impact on your home. 
Partnering with our exterminators for your rodent control in Orchard Park will provide you with: 
A home inspection to identify and locate the rodent you are struggling with.
Active rodent removal using cutting-edge products and treatments for the most effective rodent control available. 
Exclusionary treatments on any holes, cracks, or other potential entry points to help prevent any future infestations. 
Tips and advice from our trained exterminators about rodent prevention steps you could take. 
Free retreatments if you are within the guarantee period to make sure you are satisfied. 
Ant Control in Orchard Park
Finding a few ants in the kitchen might not be alarming, but they can quickly multiply and turn into a full-blown infestation almost overnight. Treating them on your own is difficult because the ants you see are only a fraction of the total colony—there could be thousands more hiding just out of sight, under floorboards, or behind walls. For a solution that's guaranteed to work, trust our ant control in Orchard Park.
When you partner with us, our ant exterminators will:
Complete a thorough inspection to determine where the ants are coming from.
Create a custom treatment plan just for your home.
Eliminate ants using minimally-invasive, effective products.
Give you relief as soon as the same day.
Stinging Insect Control in Orchard Park
Looking for residential pest control in Orchard Park that specializes in stinging insect control? Look no further than Eco Serve Pest Services. Our expert exterminators are skilled at identifying and getting rid of all types of stinging insects, including bees, wasps, yellow jackets, paper wasps, and much more.
Here's what you can expect when choosing Eco Serve for your pest control needs:
A thorough pest inspection to identify all species and their location
Specialized treatment plans tailored to each specific species and location
Family and pet-safe treatment options to ensure your loved ones are protected
Fast and flexible scheduling to fit your busy schedule
Recurring services to keep your home pest-free all season long
We know that stinging insects can be a significant concern for your family's safety and enjoyment of your yard. That's why we offer a 30-day satisfaction guarantee on all our services. Trust us to get rid of your stinging insect problem and let you get back to enjoying the sunshine worry-free.
Trust Eco Serve To Do The Job Right
We know the importance of putting your trust into a company and hoping to see fast, effective results. Eco Serve has been helping out the local community for over 20 years now and offers flexible services to work with your schedule. Not in Orchard Park? Our pest technicians in Amherst offer services in and around the Buffalo area, so make sure to find your available service area. If you have any questions, be sure to check out our online reviews as we have over 300 reviews averaging a 5 star rating and want you to work with a honest, hardworking company!