Guaranteed Pest Control in Clarence
What kind of problem are you having? Select all that apply.
Pest Control in Clarence
Few things are more uncomfortable than finding insects crawling around your home or yard.  Cockroaches, ants, and spiders don't belong in the same space as your family members and pets, so discovering an infestation can be incredibly alarming. Not to mention, each type of critter brings its own unique risks such as disease, contamination, or even dangerous bites or stings. Don't live with an infestation any longer than you have to. Get top-quality pest control in Clarence with fast service when you call Eco Serve Pest Services. Our Clarence exterminators have the expertise needed to rid your house of insects and rodents for good. We offer guaranteed protection from a wide variety of pests including:
Moths
Wasps 
Yellow Jackets 
Spiders
Mosquitos 
Ants 
Cockroaches 
Powder Post Beetles 
And More!
Image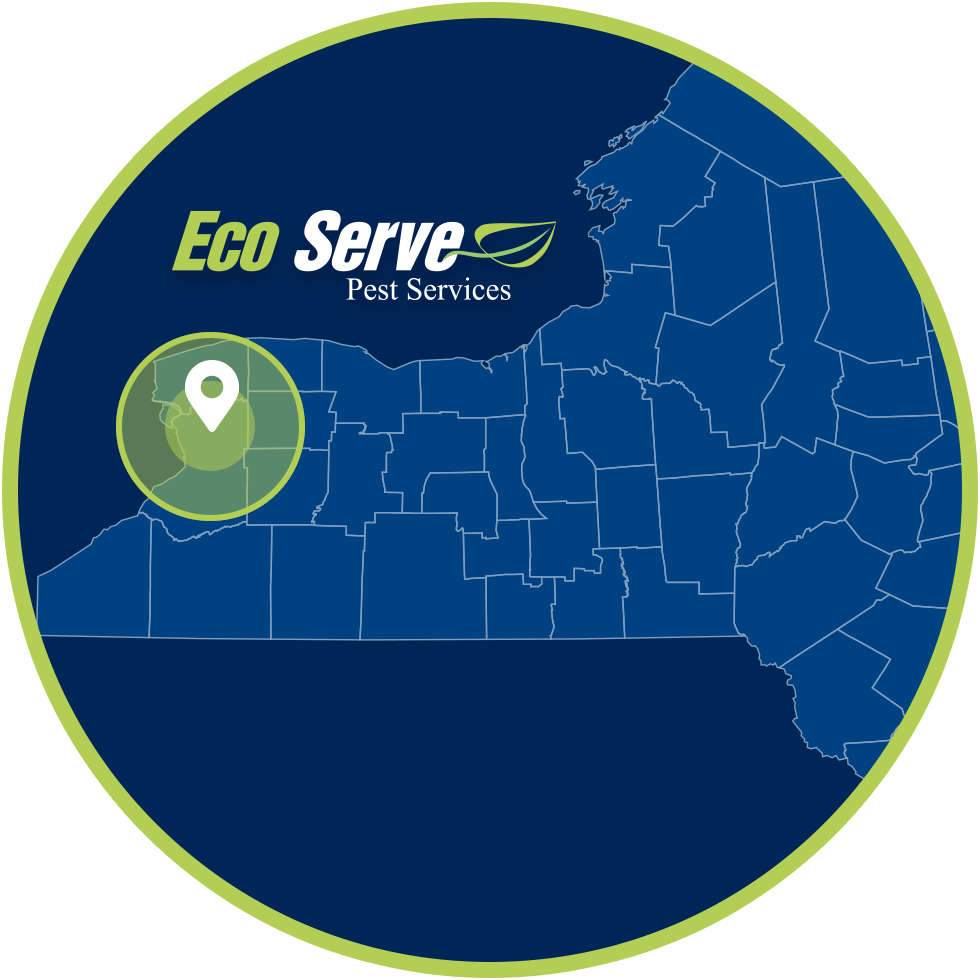 The Leading Experts in Technology-Driven Pest Treatments
If you're like most homeowners, you'll want to get rid of insects and rodents upon first sight. Although DIY pest control and store-bought treatments may seem like an effective and affordable way to do that, time spent experimenting with treatments can lead to rapid growth in an infestation and greater damage to your property. The best way to take control of your home is to team up with the leading experts in advanced pest control. At Eco Serve Pest Services, we work hard to provide our customers with cutting-edge treatments that rely on advanced technology rather than on the same old, potentially harmful chemicals that have been in use for decades. Our innovative pest control in Clarence includes the following services:
A thorough consultation to determine your unique needs.
Recurring pest control services start as low as $48/month.
Minimally invasive treatments that eliminate bugs in an eco-friendly way.
Four different treatment plans to choose from.
Attentive customer service for the entirety of our partnership.
Unlimited service calls and flexible scheduling.
Free re-treatments if problems arise within your 30-day warranty or between treatments.
Save $25 On Pest Control Today!
Get the Service You Need With Fast Relief
There is no reason you should have to live with ants, spiders, or stinging insects for more than a day or two. Pests can be extremely harmful to your health, your property, and your peace of mind. That's why at Eco Serve, we structure our business so that we are able to service all customers at fast pace so you don't have to wait. On top of that, we offer flexible scheduling and Saturday hours. If you're worried that hiring professional exterminators will be more hassle than it's worth, give Eco Serve a try. Our team of highly trained professionals will prove to you how quick and easy pest control can be!
Our Pest-Free Promise
Being able to trust your pest exterminators is extremely important.  After all, you're placing the health and safety of your household in their hands. You should never have to worry about whether your exterminator will get the job done correctly or whether the products used will harm your family or your pets. Your trust is important to us which is why we stick to proven, eco-friendly products and back our services with a 100% satisfaction guarantee. If you find yourself dissatisfied with our services during the course of our treatments or within your 30 days warranty, we'll be back in a flash to make things right at no cost to you. If you are looking for pest services in Amherst or the surrounding area, this offer also applies! Don't settle for a company that leaves you wondering whether you'll get the pest-free home promised. Trust our pest-free guarantee!  
Ant Control in Clarence
Ants are not at the top of the list of pests that cause health risks and home damage, although it can still happen depending on the species. They are however, a constant low-level irritant that just won't seem to go away. With our exterminators on your side though, you can finally break the cycle and get rid of ants for good. At Eco Serve Pest Services, we take a holistic and reliable approach to our ant control in Clarence with green methods, highly-trained exterminators, and more than 20 years of local experience. So if you're sick and tired of these tiny home invaders finding ways in and out of your home, give us a call and we'll rid of these pests. 
Our ant control in Clarence will put a stop to species including: 
Pharaoh Ants
House Ants
Pavement Ants
Odorous House Ants
And many others!
Nobody wants to live in a house full of ants for any longer than absolutely necessary. To help you take back your home from nuisance bugs as quickly as possible, we pledge to be at your front door within 48 hours of your initial call. For treatments that you can depend on and an ant control plan that fits your needs, look to us to do the job right! 
Stinging Insect Control in Clarence
When thinking about bees and wasps, you're probably imagining them out in your yard. Unfortunately though, your home is more vulnerable to a stinging insect infestation that you might realize! Given the risks that their painful stings can pose, not to mention the structural damage that their activity can cause, you can't settle for anything less than the best stinging insect control in Clarence. When you've got the exterminators at Eco Serve on your side, you can expect lasting protection from: 
Bees

Hornets

And many more!
Once you've hired us to get rid of wasps and bees in your home, our stinging insect exterminators will get started right away, determining your unique needs with a thorough in-home inspection. With that taken care of, we'll remove pest entry points, preventing stinging insects from coming back once we've dealt with them. Don't sleep on the potential for a bee or wasp infestation in your home and choose the very best to stop it from happening!
Rodent Control in Clarence
Rat and mice prevention is essential if you have noticed these pests crawling around your property. They cause millions of dollars in damages to homes every year and are carriers of diseases that may harm your family or pets. If you've seen any rat or mouse in your home, call Eco Serve for rodent control in Clarence! Our expert rodent exterminators will eliminate the infestation so you can reclaim peace in your house. Eco Serve is a pest control company that prides itself on being locally owned with expert technicians to guide you through the treatment process. We are also offering $25 off rodent control services, so getting those pests out has never been an easier choice. Our rodent control includes: 
Initial inspections

to see problem areas and extent of the infestation. 

Bait stations and traps

to make sure the rat or mouse problem is taken care of. 

Repairs of any entry or exit points

rodents were using on your property. 

30-day warranty

for services and maintenance of rodent control package.  
Bed Bug Control in Clarence
At Eco Serve Pest Services, we understand the frustration that comes with bed bug infestations. That's why we offer science-based and affordable treatments in Western New York. Our bed bug exterminator in Clarence is here to help you get rid of bed bugs and finally have a restful night's sleep.
Here's what you can expect from our family-friendly bed bug treatments:
Thorough bed bug inspection to assess the severity of your infestation.
Effective bed bug treatments utilizing mattress encasements and high-quality products.
Family-and-pet-friendly formulas that you can trust.
Guaranteed protection from bed bugs with our 30-day warranty.
Why let bed bugs rob you of the sleep you deserve? Trust our experienced bed bug exterminator in Clarence to provide fast and flexible pest services based on the best sustainable treatments and techniques. Please don't wait any longer; call us today!