Effective Pest Control in Williamsville
What kind of problem are you having? Select all that apply.
Pest Control in Williamsville
Household pests are more than just an embarrassment. Roaches threaten the safety of your family by contaminating food. For some people, yellow jackets and wasps can deliver life-threatening stings. And did you know that rodents can chew through wiring to create a fire hazard? Each day that passes without the services of a reliable exterminator just leads to more damage and increased danger to your loved ones. With 20 years of experience as your trusted local pest control company, Eco Serve is ready to help with a professional, technology-driven approach to your insect or rodent problem. Our pest control in Williamsville will protect you from a variety of critters, including:
Rats
Mice
Cockroaches
Ants
Stinging insects
Mosquitoes
Bed bugs
Spiders
Centipedes
Ticks
Fleas
Image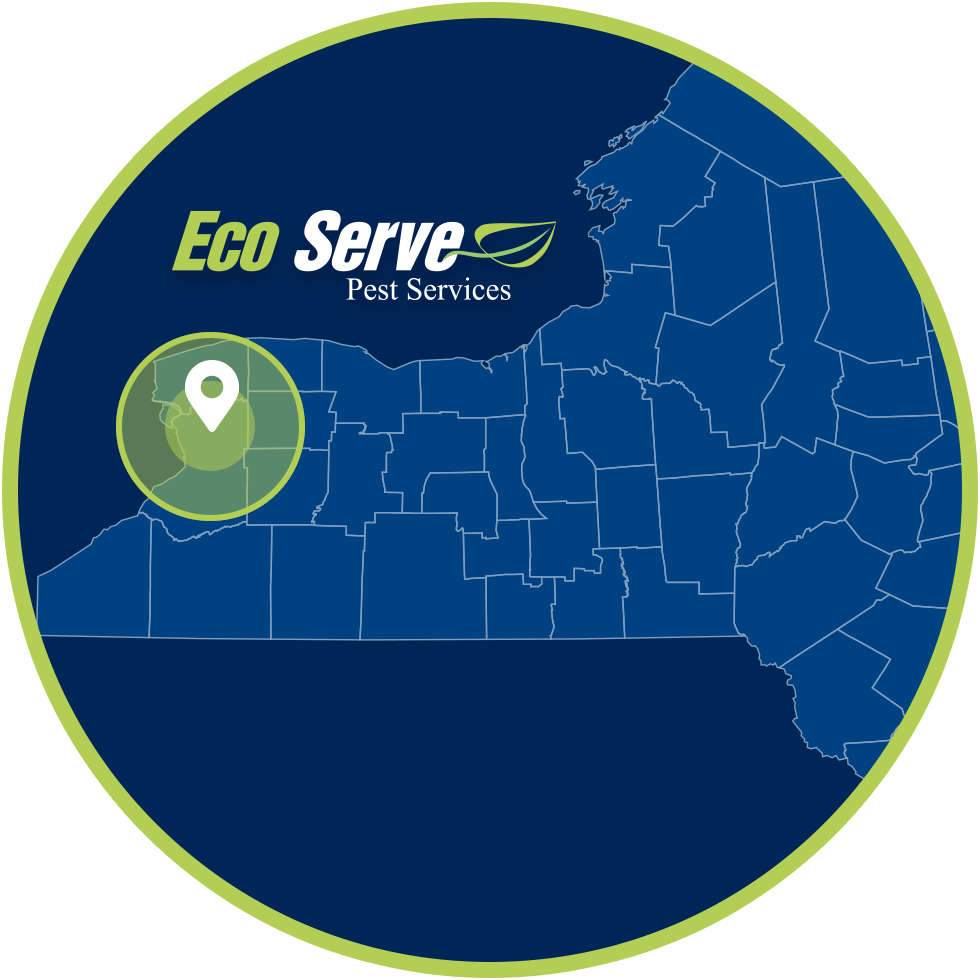 Fast, Flexible Appointments For Your Convenience
If you hear chewing in your walls or see roaches scurrying on your countertops, there's no time to lose in selecting a professional exterminator in Williamsville. Call Eco Serve at  716-293-2500 and one of our experienced, friendly technicians will be knocking on your door to deliver an inspection that will identify the type and source of insect or rodent invading your home. We'll work with you to outline a plan to get rid of pests forever. Are weekend appointments a better fit for your schedule? No problem! We also offer Saturday pest control services. Make sure to check out our locations as we offer expert pest services in Amherst and the surrounding areas!
A Guaranteed, Technological Approach to Eliminating Pests
At Eco Serve, we adhere to the highest industry standards and are committed to bringing the latest technology to pest control in Williamsville. We specialize in safe, minimally invasive treatments to get rid of any insect or rodent problem. We guarantee our work, too. See signs of pests within 30 days of our one-time treatment? Our exterminators in Williamsville will re-treat for free. Additionally, our maintenance contracts come with a full warranty.
If you choose Eco Serve for pest control in Williamsville, this is what you'll get:
An inspection of your home and property.
Excellent, friendly customer service and support.
Pest control packages starting as low as $48/month.
Next-day and Saturday service.
A family-friendly pest control company that cares about your home and the community.
Stinging Insect Control in Williamsville
Insect stings can be a painful and frightening experience. This is especially true if you're one of the 2 million Americans allergic to insect venom. When wasps or yellow jackets build their nests on your porch or in your yard, they put your family and visitors at risk. With 20 years as a trusted local pest control company, Eco Serve Pest Services has the knowledge and experience to rid your home and outdoor spaces from stinging insects once and for all.
Lasting Relief from Stinging Insects
Wasps are very territorial and can be effective at tucking their nests away where you can't see them until it's too late. Yellow jackets bothering you at a family barbeque may seem like a small problem, but their nearby nest may harbor hundreds or thousands more of these aggressive insects. You could try treating these pests on your own, but doing so carries not only the risk of failure, but of getting badly stung in the process. Eco Serve wasp exterminators in Williamsville have the training to eliminate stinging insects by treating not only visible nests but the surrounding areas. We even offer maintenance and a 30-day warranty on our service!
Rodent Control in Williamsville
You'll never feel at peace in your home during a rodent infestation. Anyone who's been through one knows how stressful they can be and just how far quality relief goes toward restoring your peace of mind. Our rodent control in Williamsville provides exactly that, giving you back control of your home. With Western New York's most elite exterminators working for you, you can count on a mouse and rat-free home that lasts all year. 
Our rodent control includes:
A thorough inspection of your home. 
Preventative treatments that resolve active infestations and prevent future ones from occurring. 
Safe and family-friendly rodent removal.
Free retreatments if vermin comes back. 
And more!
Start With A Free Rodent Quote
Stay Safe From Disease
Mice, rats, and other rodents have a reputation for spreading disease which, we're sad to say, is entirely justified. From Hantavirus, to Typhus, and even Bubonic Plague, rodent-borne diseases are both numerous and serious. So to avoid these serious diseases it is important to address an infestation as soon as it begins. Trust our team of professional exterminators in Williamsville to help keep you and your family safe from these vermin.
Ant Control in Williamsville
When they're outside in their normal habitat, ants are nothing to worry about. The moment you start finding them in your home, however, could indicate that you and your family are being overrun by an entire colony! Our team of Eco Serve exterminators in Williamsville are here to make sure that doesn't happen, and that your home stays ant-free. While ants come in all different shapes and sizes, our technicians have the skills and equipment necessary to handle all common and uncommon ant infestations you are likely to encounter here in New York, including carpenter and pavement ants. Partnering with our team for your Ant Control in Williamsville entitles you to: 
A complete home inspection to locate any ants or nests and identify the species that you are dealing with. 
A custom treatment plan developed specifically to meet the needs of you and your home. 
Fast response time with guaranteed services and Saturday appointments available.
Ant protection guaranteed if there are any more ants within the warranty period then our ant exterminators will return and re-treat at no additional cost!
Bed Bug Control in Williamsville
Say goodbye to sleepless nights with our bed bug control service in Williamsville, designed to get rid of bed bugs quickly and efficiently. Our experienced bed bug exterminators in Williamsville use the latest science-based and affordable treatments to provide you with fast and flexible solutions.
Our services include:
A thorough bed bug inspection to assess the severity of your infestation.
Family-friendly bed bug treatments that are safe for you and your pets.
Guaranteed protection from future bed bug infestations with a 30-day warranty.
Trust our team of experts with over 20 years of experience to provide you with the best bed bug control service in Williamsville and give you the restful night's sleep you deserve.