Save on Guaranteed Pest Control in Amherst
What kind of problem are you having? Select all that apply.
Pest Control in Amherst
Pests can make your life a lot more challenging than it needs to be. With your busy schedule, the last thing you want to deal with is ants in your kitchen or mice in your basement. If you're tired of cleaning up after pests and constantly worrying about contamination, property damage, and disease, now is the perfect time to call Eco Serve Pest Services for the best pest control in Amherst. With our hassle free-scheduling and minimally-invasive pest treatments, your home will be free of insects and rodents before you know it! Call now to get guaranteed protection from the following in Western New York:
Ants
Bed Bugs
Cockroaches
Moths
Mosquitos 
Powder Post Beetles
Rodents
Stinging Insects
Spiders
And more!
Image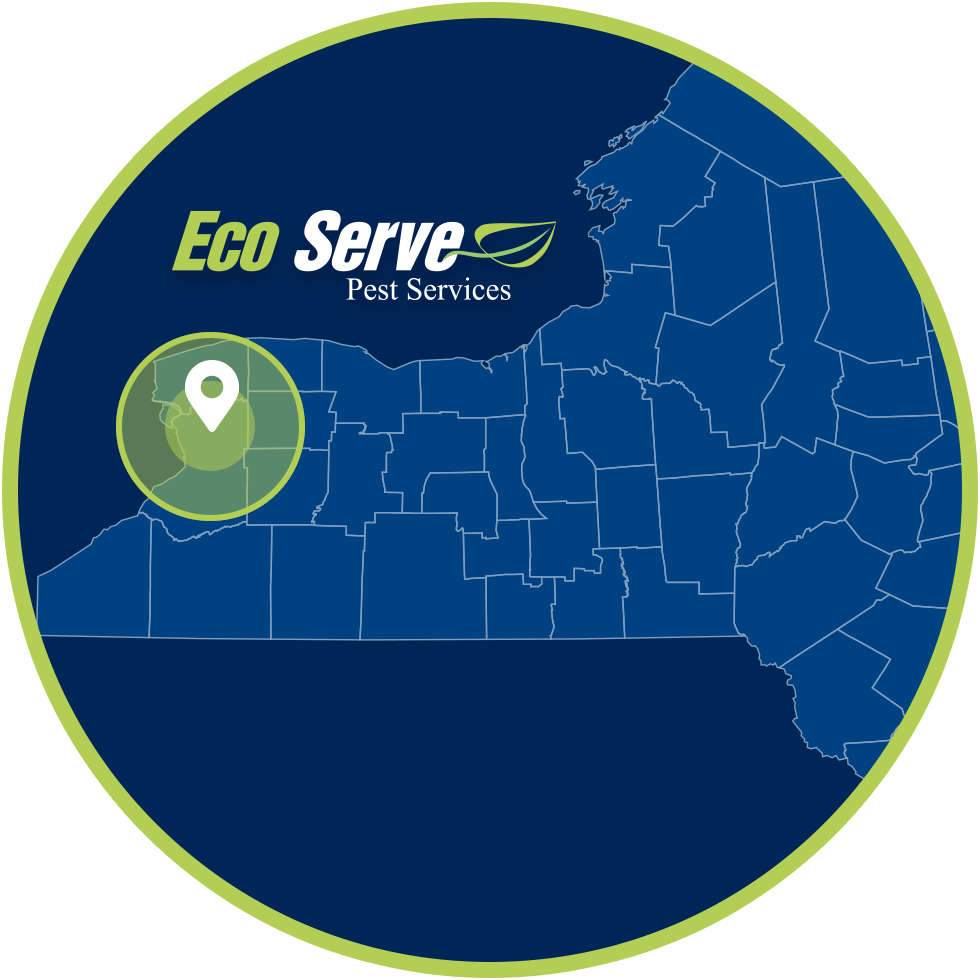 Advanced Pest Treatments for Your Total Protection
If pest control was as easy as buying the first treatment you see at the store and following the instructions listed, they probably wouldn't be such a huge problem for homeowners. Unfortunately, this is not the case. Because every home and infestation is unique, customizable pest treatments are a necessity. 
At Eco Serve Pest Services, we offer technology-driven, minimally invasive treatments guaranteed to provide total protection for you and your household. Say yes to our advanced pest control in Amherst and receive the following services:
A unique pest inspection and consultation to identify your unique needs.
Fast service of your call and Saturday servicing.
Recurring pest control starting as low as $48/month.
Top-quality customer service and unlimited service calls.
Eco-friendly treatments as part of our integrated pest management system.
Expert treatment application by a highly-trained and experienced exterminator in Amherst.
Free re-treatments if problems persist in between treatments or within 30 days of our final service.
Get Peace of Mind with our 100% Satisfaction Guarantee
As a local and family-owned business, we are committed to providing total satisfaction for our Amherst customers. We demonstrate our commitment to the community through community involvement and through the quality of our services. We care about Amherst and strive to ensure complete peace of mind for each of our customers by backing our services with a 100% satisfaction guarantee. If pests return in between treatments or within your 30-day warranty, you can trust that we will do what it takes to make things right at no cost to you. Put your worries to rest once and for all with the help of our expert exterminators.
We Make Scheduling Pest Control Easy
With insects and rodents making your life feel like a constant battle, the last thing you want to do is fight over pest control scheduling. That's why at Eco Serve, we put every effort into making scheduling as hassle-free as possible. If you want speedy service, we'll be there. If you want service on a Saturday, a local exterminator will accommodate you. Our courteous customer service representatives will work with your schedule to ensure that you are getting the best pest control experience possible.
Rodent Control in Amherst
Rodents are not the kind of pest that will go away if left alone. Once inside your home mice are quick to build a nest near an available food source and begin reproducing. This means that a small infestation can quickly turn into over a dozen mice in a matter of months. Imagine what a dozen rodents could do if one rodent can spread dangerous diseases and inflict serious property damage by chewing through walls and wires. Don't let rats run rampant in your home. Call Eco Serve Pest Services for the best rodent control in Amherst and put an end to the infestation before it gets out of hand. 
Say Goodbye to Rodents
Rats and mice are a lot smarter than most people give them credit for. If you're tired of rodents outsmarting your traps and seals, let the experts with over 20 years of experience in the rodent control industry help. The following services are designed to provide lasting relief from even the most stubborn rodent infestations: 
An inspection that covers the interior and exterior of your property.
Safe and effective rodent removal.
Preventative treatments such as sealing cracks and gaps and locating problem areas.
Expert advice from your exterminator on what you can do to prevent infestation.
Free re-treatments within your guarantee period!
Ant Control in Amherst
Ants, to put it mildly, are a pain. They're never really causing any serious damage around your home, therefore they are easy to overlook, but they're also very difficult to get rid of for good. No matter what you try or how often you spray them with insecticide, they just seem to come right back. With our ant control in Amherst though, you can finally put a stop to this frustrating cycle once and for all. Knowing which species of ant is invading your home is vital to figuring out the solution you need, and our ant exterminators are here to help!
Our local exterminators bring high-quality service, backed by more than 20 years of experience to your front door to protect your home from:
Pharaoh Ants
House Ants
Pavement Ants
Odorous House Ants
And many more!
Once you schedule your first service, we'll be over in less than 48 hours to perform a thorough inspection of your home and to develop an ant control plan that meets your specific needs. Don't let this nuisance pest make you feel uneasy in your own kitchen for another moment, and give us a call today!
Stinging Insect Control in Amherst
The last place that you expect to get stung is in your home but sadly, it can happen more easily than you think. Wasps and bees love to set up their nests both in and around your home and like any pest, can find their way indoors with remarkable ease. What's worse, their nests can often house hundreds, if not thousands, of individuals, making most infestations severe from day one! With our stinging insect control in Amherst though, you can expect lasting protection from:
At Eco Serve Pest Services, our stinging insect exterminators will start by conducting a thorough inspection of your home to help determine your exact needs. After that, we'll get right to work, clearing active bugs and removing entry points to keep them from coming back. You and your loved ones deserve the very best, so look to us to deliver the results that you need every time! 
Bed Bug Control in Amherst
Trust our team of experienced bed bug exterminators in Amherst to provide fast and flexible solutions based on the best sustainable treatments and techniques. Our family-friendly bed bug treatments are designed to quickly eliminate bed bugs with little hassle and mess so you can enjoy a restful night's sleep again.
Choose our bed bug exterminator in Amherst for the following benefits:
Thorough bed bug inspection to assess the severity of your infestation.
Professional treatments utilizing mattress encasements and highly effective products.
Family-and-pet-friendly formulas you can trust.
Fast, easy relief!
With our 30-day warranty, you can know that if the bed bugs return within a month of your treatment, we'll be back to set it right at no additional cost to you.
Not in Amherst? See Where Else We Service
Looking for pest control in your area? Our experts service many different cities surrounding Western New York.