Guaranteed Pest Control in West Seneca
What kind of problem are you having? Select all that apply.
Pest Control in West Seneca
There's a lot to love about living in New York, but insects and rodents aren't part of that! Even the most careful homeowners can end up sharing their living space with pests, ranging from destructive rodents to annoying ants and bed bugs, and more. Here at Eco Serve, our top priority is helping you take back your home with fast, effective, affordable solutions to all your pest problems. Our pest control in West Seneca uses the latest technology to eliminate critters without endangering your health or damaging your home. Our exterminators in West Seneca are trained to handle anything by offering the following services:
Rat Control
Mouse Control
Moth Control
Stinging Insect Control
Ant Control
Bed Bug Treatment
Cockroach Control
Powder Post Beetle Control
And more!
Image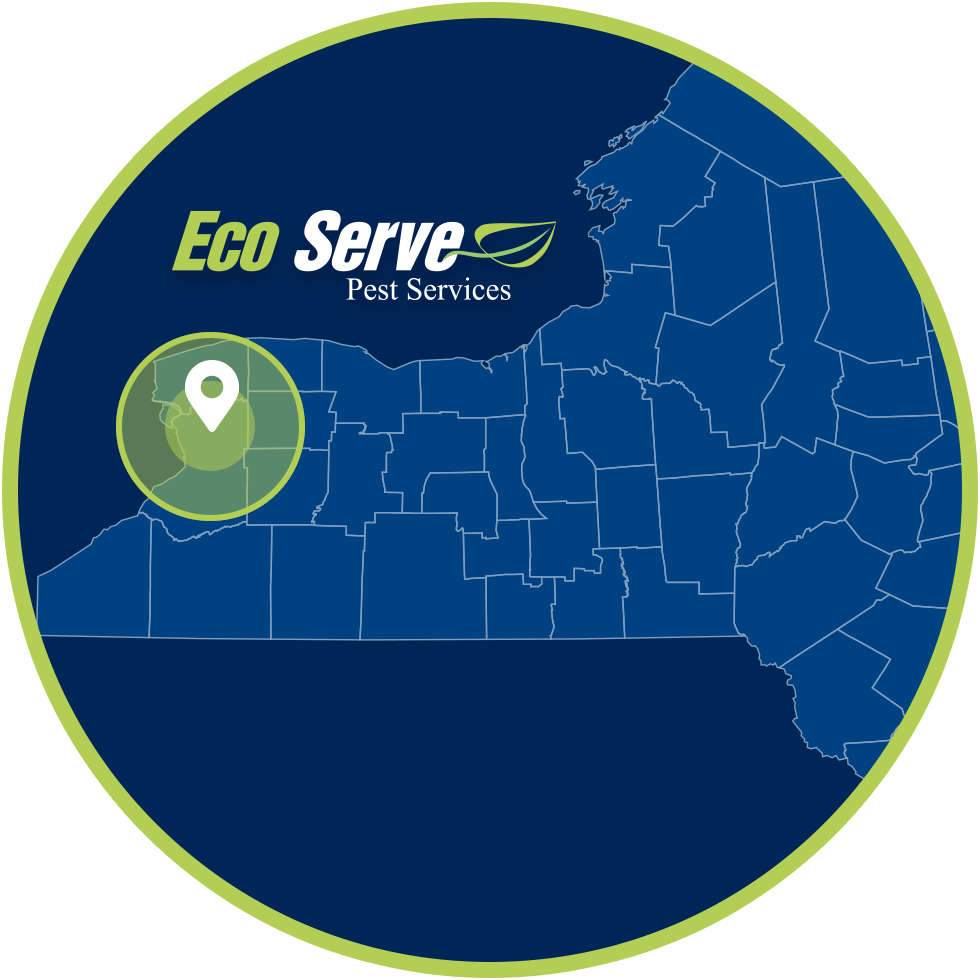 Technology-Driven Solutions to Pest Infestations
When you're looking for pest control in West Seneca, it's crucial that the treatment option you choose targets the problem at its source. When you team up with the exterminators at Eco Serve Pest Services, you get the benefit of working with experts with over 20 years of experience handling all types of infestations. We'll start you out with a thorough pest inspection to identify your home's unique needs, and with both one-time and recurring treatment plans available, we'll be sure to have the plan you need to take back your home. Partnering with our exterminators in West Seneca comes with a range of benefits, such as the following:
Same-day and next-day treatments for quick and effective extermination. 
Free follow-ups between pest control treatments or during your 30-day warranty period.
Friendly, professional customer service.
5% off for first responders and veterans.
Techniques based in Integrated Pest Management (IPM) philosophies, which focus on reduced pesticide use.
And more!
Dealing with pests in Amherst or other areas around West Seneca? Let our experts know where you are located so we can help with any infestation!
Bed Bug Treatment in West Seneca
Bed bugs make the worst bedmates. While not dangerous, these blood-sucking insects can leave you covered in itchy, unsightly welts, and their small size and fast reproduction rates make them difficult to treat without professional help. With Buffalo being the 18th most bed-bug-affected city in the country, it's safe to say that if you live in New York, you may encounter these insects at some point. Lucky for you, our team of bed bug exterminators at Eco Serve Pest Services is here to provide you with rapid, reliable bed bug treatment in West Seneca. Our bed bug treatments utilize mattress encasements and the latest technologies and techniques to remove bed bugs easily and efficiently—no mess, fuss, or hassle. 
When you work with us, you can expect the following from your bed bug exterminator in West Seneca:
A bed bug inspection to identify the right approach for your home.
Integrated Pest Management (IPM) based treatments to remove bed bugs safely.
Free follow-up treatments during your 30-day warranty period.
Fast services for quick relief.
Commercial Pest Control in West Seneca
As a business owner, few things are as stressful as a pest infestation. If you're dealing with insects, it can be hard to pay attention to your customers, employees, and bottom line—not a distraction you need. Here at Eco Serve Pest Services, we're here to ease your worries once and for all. Using proven pest management technologies, we provide commercial pest control in West Seneca that will keep your business free of bugs and ready to serve your community and clients. Our guaranteed services are designed to keep your business safe for the long run with preventive measures and the best Integrated Pest Management (IPM) techniques, and our same-day and next-day service make it possible for us to be there as soon as you need us.
Our commercial pest control in West Seneca can serve any of the following businesses: 
Food processing
Restaurants
Hospitals
Nursing homes
Apartment & condominiums
Office buildings
Schools & universities
Warehouses
And more!
Rodent Control in West Seneca
Although infesting pantries is what mice and rats are most well known for, rodents will do more than just steal a snack every now and then if allowed into your home. By constantly gnawing on the wood and wiring in your home they will put your property at risk of electrical and fire damage. On top of that, the urine and droppings mice leave behind can carry harmful diseases and trigger allergies. Take steps today to protect your family from an infestation by talking to the expert exterminators at Eco Serve Pest Services about our highly rated rodent control in West Seneca.  
Thorough Rodent Removal That Meets Your Needs
While other pest control companies choose to focus their efforts on setting traps, we go above and beyond to keep rodents away for the long-term.  In addition to expert trap placement, you will receive the following rat and mouse control services:
A thorough inspection to establish an effective mouse removal and prevention plan.
Sealing of gaps, cracks, and other problem areas that allow rodents access to the interior of your home.
Advice from our expert rat exterminators on what you can do to prevent an infestation.
Free follow-up services if rats return between treatments or within your warranty period.
Stinging Insect Control in West Seneca
Looking for reliable stinging insect control in West Seneca? Look no further than Eco Serve Pest Services! Our stinging insect control specialists are here to help eliminate those pesky bees, wasps, yellow jackets, paper wasps, and much more.
Here's what you can expect when you choose us:
Thorough pest inspection to identify the specific species bothering you
Specialized treatment depending on the species and location
Family and pet-safe treatment options to make sure every nest is being dealt with carefully
Fast and flexible scheduling to minimize exposure to stinging insects
Recurring services to keep your home pest-free all season long
100% satisfaction guarantee - if the pests return within 30 days, we'll re-treat your home at no extra cost!
Don't let stinging insects ruin your outdoor fun. Trust Eco Serve Pest Services for all your pest control needs in West Seneca!
Ant Control in West Seneca
Are you tired of constantly battling ants in your West Seneca home? Look no further than Eco Serve for all your pest control needs. Our expert exterminators use the latest and most effective techniques to get rid of any pesky critters while keeping your family and pets safe.
Here's what we offer:
General pest control for all types of common household pests
Special treatment for carpenter ants, including nest location and prevention measures
Pest inspection to identify any potential problem areas
Recurring service calls to keep your home bug-free
Expert advice and personalized customer service
Don't let pests take over your home. Trust Eco Serve and our team of experienced exterminators to provide the best ant control services in West Seneca.