Guaranteed Pest Control in Buffalo
What kind of problem are you having? Select all that apply.
Pest Control in Buffalo
You're already busy enough with work, school, and spending time with your family. You don't have time to deal with a pest infestation—but we do. We offer pest control in Buffalo with fast services acting to your call, so you'll never have to wait for relief. With our fast response time and flexible scheduling, it's never been easier to get rid of insects or rodents!
Our exterminators treat a variety of pests, including:
Ants

Yellowjackets

Mosquitoes

Spiders

Wasps

Moths

Cockroaches

And more!
Image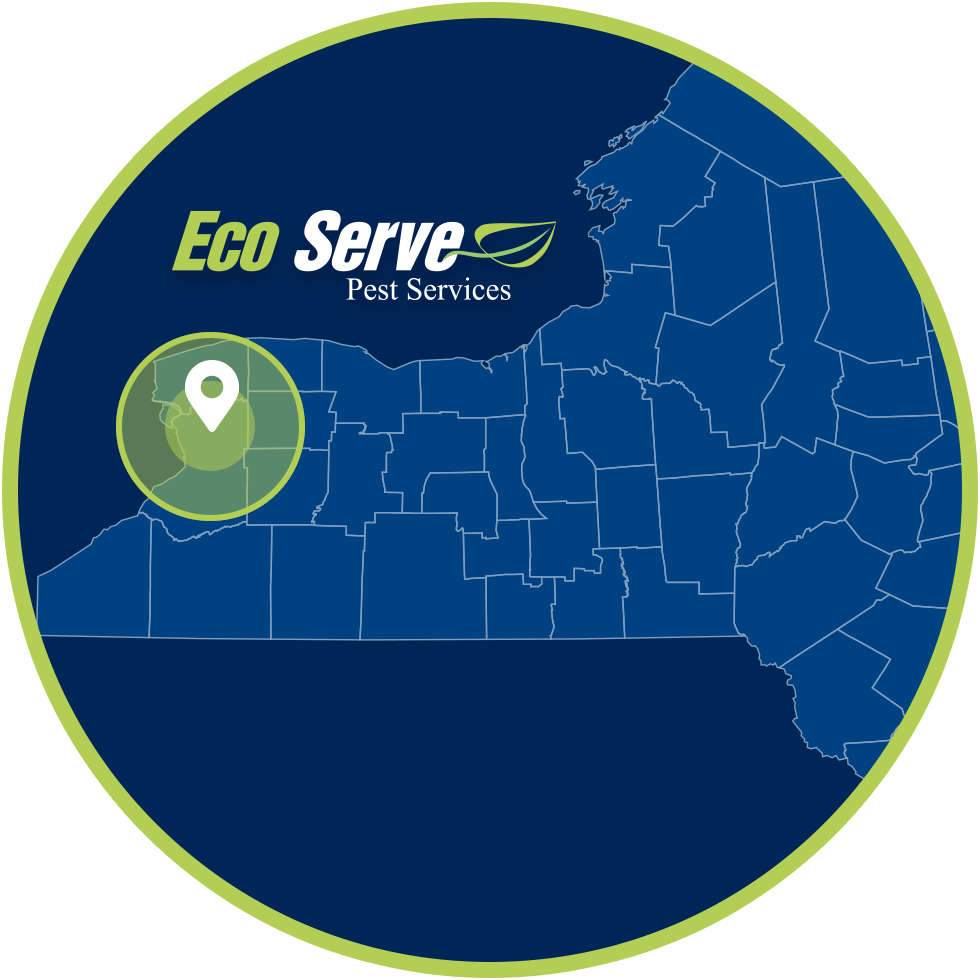 Hassle-Free Relief from Pests
Store-bought treatments might seem like a good idea, but they can actually make your pest problem worse. Instead, trust our pest control in Buffalo. We make things easy by hiring the best exterminators in the state, using high-quality products, and offering a 30-day warranty. There's no better option than Eco Serve!
When you partner with us for pest control, you'll get:
A

free inspection

to determine what pests are present and where they're hiding.

Quick guaranteed services, including Saturdays.

Recurring visits

with unlimited service calls for long-term protection.

Eco-friendly

, minimally-invasive treatments.

Top-notch customer service.
Guaranteed Service for Your Peace of Mind
We know our services work, but you don't have to just take our word for it! We offer guaranteed pest control in Buffalo. If pests return within 30 days after your treatment or between scheduled visits, we'll re-treat for free. Not in Buffalo? We also offer pest services in Amherst and its surrounding areas. Trust Eco Serve to protect your family and property from any bug or rodent.
Stinging Insect Control in Buffalo
Wasps, hornets, and yellow jackets can quickly become defensive if you get too close, causing painful stings and potential allergic reactions. If you have an unwanted nest in your backyard and want to eliminate these insects, give Eco Serve a call! Our stinging insect control in Buffalo will quickly and safely get rid of pests, letting you enjoy your time outside without worry.
When you partner with us for stinging insect control, we will:
Complete an

inspection

to determine what type of insect is present.

Create a

custom treatment plan

based on the size and location of the nest.

Use

family-friendly treatments

to eliminate stinging insects.

Back our services with a

30-day satisfaction guarantee.
Flexible Saturday Servicing Options
Stinging insects are more than just annoying, they're also dangerous. Don't let these nuisance bugs keep you cooped up indoors any longer and trust our exterminators for guaranteed treatment. If the weekdays don't work for you, Eco Serve offers Saturday servicing to make sure your pest problem gets taken care of on your schedule.
Ant Control in Buffalo
Ants might not be dangerous, but that doesn't mean they aren't annoying! A single colony can house hundreds of thousands of insects, allowing them to quickly take over your home. Depending on the species, your home can suffer from structural damage, and once an ant infestation is on your hands, it will be very difficult to properly remove all of the insects. You can try store-bought sprays and bait, but chances are that ants will just keep coming back. For results that last, trust our ant control in Buffalo. Our exterminators use minimally-invasive treatments to completely get rid of ants, we guarantee it!
Our ant control covers different species, such as:
Pharaoh ants

Carpenter ants

House ants

Pavement ants

Odorous house ants
Rodent Control in Buffalo
As with most cities, rodents can be a major nuisance—they cause major property damage, spread disease, and can quickly multiply if not taken care of immediately. Take your home back today with expert rodent control in Buffalo from Eco Serve Pest Services and our trained team of rat exterminators. With our locally owned and operated team of 20+ years of experience, we have seen it all. That is why our comprehensive treatment plan includes the following:
A free interior and exterior property inspection

to locate every rodent in your home.

Effective and safe treatments and removal

.

Preventative processes and treatments

, such as sealing cracks in walls.

Honest and comprehensive advice

from our team members.

Free re-treatments backed

by our guarantee period.

And more!
Bed Bug Control in Buffalo
Say goodbye to restless nights and irritating bites with Eco Serve Pest Services' bed bug control service in Buffalo. Our professional bed bug exterminators have years of experience getting rid of bed bugs quickly and affordably. Here's what you can expect from us:
Comprehensive bed bug inspection to assess the severity of your infestation
Family-friendly treatments using eco-friendly formulas you can trust
Fast, easy relief with guaranteed protection
Don't let bed bugs rob you of a good night's sleep any longer. Our bed bug exterminator in Buffalo will help you eliminate these pesky insects with minimal hassle and mess. Contact Eco Serve Pest Services today for a bed-bug-free home!